Coming Monday 1 December, Federico Sangati (FBK, Trento) will give an overview of his work in Digital Humanities at the Institute of Language, Logic, and Computation.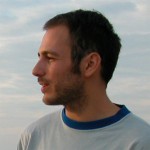 PLACE: ILLC, Science Park 107, Room F.115
TIME: 13.00-14.30h, 1 December 2014
TITLE: Analysis of Language and Content In a Digital Environment
ABSTRACT
I will start with a 20min general introduction of the Digital Humanities unit at FBK in Trento with a brief description of the projects we are (or planning to be) involved in:
ALCIDE
Online platform for Historical Content Analysis
VVV
Creating a Platform for Navigating Museums' Visual Virtual Art Collections.
SCHOOL-TAGGING
Classroom Collaborative Exercises for Language Research
MADRE
Mapping Public Discourses on Equal Opportunities
DIGITAL MUSICOLOGY
Music annotation and analysis of Sacred Polyphony and Liturgy in 15th-16th century Europe.
In the second part (20-25min) I will run a demo of the ALCIDE platform.
ALCIDE (Analysis of Language and Content In a Digital Environment) is a new platform for Historical Content Analysis. The main aim of ALCIDE is to improve Digital Humanities studies integrating methodologies taken from human language technology and an easily understandable data structure representation. ALCIDE provides a wide collection of tools that go beyond simple metadata indexing, implementing functions of textual analysis such as named entity recognition, key-concept extraction, lemma and string-based search and geo-tagging. ALCIDE is designed for studying late modern and contemporary history collections, thus it provides different functionalities, all anchored to a timeline. Moreover, distant and close readings are strongly interconnected, so that the system can be used for both qualitative and quantitative analysis of historical sources. The ALCIDE platform currently supports corpus analysis of English and Italian documents. At the present moment, two use cases are available in ALCIDE: the complete corpus of writings of Alcide De Gasperi, one of the founders of the Italian Republic and one of the father of European Union, and the corpus of speeches given by Kennedy and Nixon during the presidential campaign in 1960.