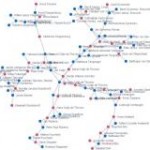 CREATE has been awarded a new KIEM-grant for 'CANAAN: CreAtive Nodes in Amsterdam's Artefact-actor Networks'.
The aim of the proposed project is to mashup data from two (and eventually more) distributed cultural heritage resources in a single research tool. The resources in question are the digital collection catalog of the Amsterdam Museum (AM) and the ECARTICO database of the University of Amsterdam (UvA). The AM hosts one of The Netherlands' most thoroughly digitized collections, which spans cultural productivity from past to present and from 'high' to 'low' art. ECARTICO contains structured biographical data on cultural entrepreneurs from the 16 & 17th century Low Countries and their relatives and relations. Combining these resources would result in an artefact-actor-network with a proven research potential for exploring the structure and dynamics of Amsterdam as a creative city in the Dutch Golden Age.
UvA and AM partner with Islands of Meaning, a company specialized in developing innovative tools for e-humanities, to develop a demonstrator-tool to visualize and explore the generated artefact-actor-networks. Two workshops will be organized to discuss ideas, practices and applications, to get in touch with a broader group of stakeholders and to prepare a grant for European funding. The project will be evaluated in an article for a class A academic journal and/or a research paper for a leading conference in this field.
CANAAN is developed within the research project Creative Amsterdam: An E-Humanities Perspective (CREATE) at the Amsterdam Centre for Cultural Heritage and Identity at UvA.