How did 40 maidens and 40 men fit in the 16th-century Amsterdam home of Pompeius Occo? And how could the Kerkplein in Hoorn have housed the medieval Grote Kerk until its demise in the 19th century? To answer these and many other questions, we should turn to 3D digital reconstructions and virtual reality techniques.
During the second CREATE Salon, we learned about reconstructing historical sites for academic purposes and for educational and entertainment purposes. UvA researchers Madelon Simons and Loes Opgenhaffen discussed their ongoing reconstruction of Het Paradijs, a house, or perhaps even mansion, on Kalverstraat 13. Director of the Westfries Museum, Ad Geerdink, presented the state-of-the-art virtual reality experience the museum is preparing in collaboration with 3D animator Rob Tuytel (Model Earth).
16th-century Amsterdam may have been much more 'golden' than is commonly acknowledged. In two buildings situated along a small alley, between the Rokin and the Kalverstraat, Pompeius Occo, 16th-century banker and humanist, provided a home for his family and an international meeting place for artists, merchants, scholars, and kings. Occo is a fascinating figure for art historians and historians, as his activities testify to the often-underestimated role of Amsterdam in 16th-century commercial and cultural networks. Loes showed that Occo's home can be of equal interest for researchers. On the basis of spatial, art historical and archeological data, Loes has started to reconstruct the two buildings in their surroundings. Thinking about the historical use of space and forces researchers to be precise, combine different sources, and allows ask new questions. What did Occo's library look like, where did he have his parties, and from where did guests enter the house, the Kalverstraat or the Rokin?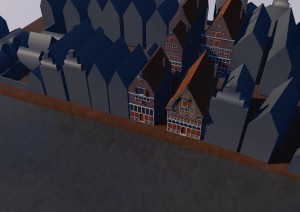 Asking such questions and visualizing space in 3D reconstructions provide valuable insights in historical experiences and realities. The use of 3D reconstructions also stimulates methodological clarity and accuracy. Madelon showed how she and her students develop interactive means of annotating all the choices and uncertainties in the process of mapping and reconstructing. Colors and texts linked to source material will, for instance, accompany reconstructions of furniture and people in the houses, on the basis of collections in museums, 16th-century images, and even adaptations of 19th-century materials and decorations.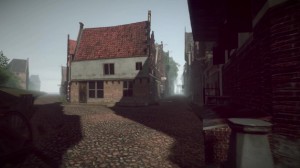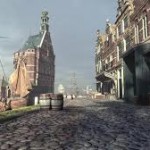 The 3D animations of Hoorn, presented by Ad Geerdink and created by Rob Tuytel (Model Earth) for the Westfries Museum, were of a different nature and scale. The images looked like photographs, and the trailer for the 3D reconstruction felt like watching a romantic movie. Ad explained that the museum combines a traditional way of presenting artifacts, almost in a nineteenth-century exploratory setting, with modern ways of storytelling, from the use of tables to the presentation of 3D images. But their new virtual reality project goes far beyond modern and may even be called futuristic. With virtual reality headsets (Oculus Rift develop kits, the consumer versions are not even on the market yet!), specially designed chairs, and 3D animations of Hoorn, they aim to offer visitors a tour through Hoorn of the 17th– century. And by tour they mean walking tour. Yes, by sitting in a chair in the museum, and in the future even from your own home anywhere in the world, you can visit the harbor, enter the church, and climb up scaffolds, all the while surrounded by 17th century inhabitants and appropriate soundscapes. As a tourist, you can simply be overwhelmed, but you can also be educated about specific sites and situations by clicking on the barrels that can be seen throughout the city. Check out the trailer for a glimpse of what Rob and his team have been working on and visit the museum in a few months for the real VR experience.
The two presentations demonstrated that the reconstruction and animation efforts of scholars and museums overlap, but that objectives also differ. Like, Loes and Madelon, Ad Geerdink and Rob Tuytel also worry about historical accuracy and annotation, but ultimately their reconstruction of 17th-century Hoorn serves a different purpose. Like most museums, they aim to present history in an appealing way, to as many visitors as possible. The VR project is not about being 100 % historically accurate, but about the experience of visiting a 17th-century city and experiencing what walking in such a city may have been like. And although historians and archeologists may personally dream about going back in time, they are of course also  concerned with checking and improving historical data. How to integrate the two objectives in attractive yet also academically annotated models is a question we hope to continue to address in future Salons.
Also of interest:
Reconstruction of De Digitale Stad
Assassin's Creed in 18th-century Paris