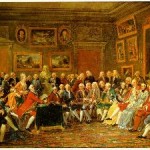 We are proud to report that, like its historical counterpart, the first of our monthly Salons provided a place of exhibition and conversation, enabling researchers to discuss their work in an informal setting. During the first CREATE Salon on Thursday October 2nd, Harm Nijboer and Christian Olesen presented the exciting two NWO KIEM projects they're developing within the Amsterdam Centre for Cultural Heritage and Identity (ACHI): CANAAN: Creative Nodes in Amsterdam's Actor-Artefact Networks and Data Driven Film History: a demonstrator of EYE's Jean Desmet collection.*
Harm explained how the CANAAN project aims to automatically link data of the Amsterdam Museum (on artefacts) and the Ecartico dataset (on artists and other cultural actors) in a single research tool. Such a central interface can support researchers in their analyses of early modern Amsterdam artefact-actor networks by visualizing networks and revealing new connections. Christian introduced the unique estate of Jean Desmet, the first Dutch professional film distributor around the turn of the twentieth century. This varied collection, which is on the Unesco World Heritage list and available in digitized form through the Eye Film Institute, is a crucial source for researchers on film distribution, programming and early cinema culture in general.
Projects on 17th-century art and 20th-century film distribution may seem unrelated at first, but during the Salon discussion it became apparent that they share similar goals and face comparable challenges. For one, both aim to develop datasets and digital tools that help provide insights in the organization of Amsterdam's creative industries, be it the painting industry or film distribution. They also encounter technical challenges and issues related to user-experiences that force the researchers and programmers to rethink means of online data presentation and the possibility of linking data from sometimes very wide-ranging sources. How to deal with, for instance, uncertainty as result of automatic linkage of different dataset, biases in the datasets, and the possibility of plugging in other datasets at later stages? How should the provenance and the limitations of the data be discussed and presented? When is the data and the application 'good enough' for researchers to use? These questions and the development of possible solutions surpass the level of individual projects and are crucial for the development of tools that will also be applicable to other datasets in the future.
Apart from discussing the technical aspects of the two projects, Harm and Christian also emphasized their historiographical potential. Hereby they both addressed the main concern of the CREATE project: linking the context in which cultural industries develop to the cultural content generated within these industries. The CANAAN project links information on people to information on artworks. This makes it possible to ask questions such as How do the social backgrounds or networks of artists shape their artistic production? Is, for instance, the religious background of an artist a determinant of specific stylistic or thematic choices?  Data Driven Film History aims to generate color visualizations of films and film programs. A tool through which the color of films can be visualized and analyzed can help bridge textual and contextual approaches in film history. How colourful are films? And how does this relate to different variables, such as genre, filmmaker, period, or place? That these questions and the methods of analysis are not only of interest to film historians is evident from this recent article in Wired on the evolution of movies during the twentieth century.
Historical data, modern digital tools, and Amsterdam as a creative hub: plenty to talk about for years to come! … To be continued during our next Salon on November 6.
Other relevant links to topics mentioned during the discussion:
Lev Manovich Image Plot     Matlab       KB Ngram