Photo impression CREATE conference 2016
Video Keynote Lecture Scott Weingart: Punched-Card Humanities
Slides Keynote Lecture Ija van Damme: Cities of a lesser god?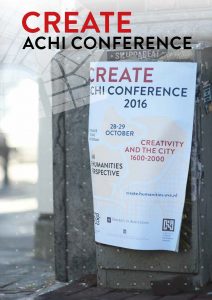 The conference took place at Flemish Cultural Center De Brakke Grond, at in Amsterdam, on 28 and 29 October
This international and interdisciplinary conference on the history of creativity and the city brought together recent research in the fields of history, arts, and digital humanities. In the last decade, scholars in the humanities and social sciences have explored the complex interplay between places and their culture using a variety of methods and approaches. The conference examined the relationship between cultural artefacts (art, books, etc.) and the urban networks and spaces in which they were conceived, (re)produced, distributed, mediated, and consumed in early modern and modern Europe. How such issues can be studied by means of existing and novel (digital) methods, as well as comparative and long-term approaches, was the second major theme of the conference.
With topics ranging from Golden Age painting to Italian cinema culture and Hong Kong's Martial Arts, participants jointly developed a much-needed long-term and global perspective on the current notion of the 'creative city'.
Invited speakers: Ilja Van Damme (Antwerp University), Isabella di Lenardo (École polytechnique fédérale de Lausanne), Matthew Lincoln (Getty Research Institute), Frederic Kaplan (École polytechnique fédérale de Lausanne), Dorit Raines (Ca' Foscari University), Scott Weingart (Carnegie Mellon), and many more!
PROGRAM: click HERE.
Playlist Fuse music: click HERE.
---
The conference was kindly supported by:
Read more about the Royal Netherlands Academy of Arts and Sciences and CLARIAH here and here.
For more about the ACHI and CREATE go to here and here.