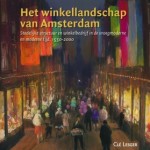 UvA historian Clé Lesger has been awarded with the Professor van Winter prize 2015 for his monograph Het winkellandschap van Amsterdam. Stedelijke structuur en winkelbedrijf in de vroegmoderne en moderne tijd, 1550-2000 (Hilversum, Verloren 2013). The Professor van Winter prize is a bi-annual prize for the best study in local and regional history, funded by the P.J. van Winterfonds and organized by Huygens ING.
The award ceremony will take place on Friday October 30, in Spui25. The program (in Dutch) starts at 2 PM:
prof. dr. Ilja van Damme, 'Stad en kleinhandel: uitdagingen voor nieuw onderzoek'
prof. dr. Jan Hein Furnee, 'Op jacht naar de klant: De Bijenkorf, 1945-1965'
Gerrit van der Plas, 'Heden en toekomst van de Amsterdamse detailhandel'
prof. dr. Marietje van Winter, 'De Professor van Winterprijs'
Juryvoorzitter prof. dr. Hans Mol, 'Waarom de prijs van 2015 naar Clé Lesger gaat'
dr. Clé Lesger, 'Dankwoord'
Registration: www.spui25.nl, before October 23.