For the last eightteen months we have been working on the second phase of the database ONSTAGE: eventually it will contain information of the repertoire of the City Theatre of Amsterdam since the new building at the Leidseplein in 1774 till now. By collecting information from advertisements, yearbooks, programme books, etc. dates of performances, writers and directors will be brought together in an online database. The project complements the data collected in ONSTAGE on the Amsterdam City Theatre for the period 1637-1772.
The data of the period between two great fires at the City Theatre (1774-1890) has been collected and uploaded on an online database, which is now available online. During these months of collecting Amsterdam of the nineteenth century has partly disclosed itself mostly through advertisements of the City Theatre itself and newspaper articles, but also through the valuable work of former researchers. Titles of so called popular German and French sentimental dramas and melodramas passed by next to old repertoire, next to changes of theatre managers, illness of actors, deaths of kings and visits from all over Europe. 
In the near future we want to share this beautiful material with you in an online database and enrich it with source material, accompanying information as authors, composers, translators, decorators, and so on. The next step will be the continue of collecting data for the twentieth century. The next years we want the Amsterdam City Theatre Database to cover 1637 till now (we are at the moment completing the data untill the second World War), enriched with more than dates and titles, and combine it with similar databases from other Dutch cities. In combination with new digital analysing tools we will be able to get information about the taste of the audience, the coming and going of plays, canonization, fixed plays on fixed days in the year, European networks, and the identity of Amsterdam as a creative city.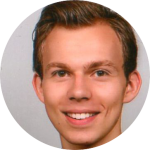 Jan Vos completed a BA in Arts and Culture Studies and is currently finishing the master Dramaturgy. He works as a student assistant on the Amsterdam City Theatre Database.