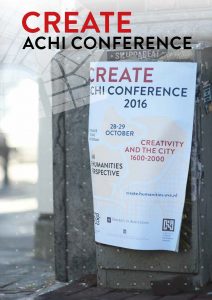 Program
Paper versions will be distributed at the conference venue. Here's the PDF with abstracts and info on the venues. And below an up-to-date schedule:
Thursday 27 October 2016
17.00-18.30                     Opening Reception Conference Participants [Brakke Grond]
---
Friday 28 October 2016

9.00-9.30                           Coffee and tea
9.30-9.45                           Conference opening
chair: Claartje Rasterhoff
Mieke Renders (director De Brakke Grond)
Karen Maex (rector magnificus University of Amsterdam)
Julia Noordegraaf (professor of Digital Heritage, University of Amsterdam)
9.45-10.30                         Keynote lecture
Prof. dr. Ilja Van Damme (University of Antwerp). Cities of a lesser God? Re-assembling the history of creativity & the city from a long-term perspective
10.30-10.45                       Short break – room change
10.45-12.15                       Sessions
Uses of Digital Heritage

chair: dr. Jaap Kamps (University of Amsterdam)

Sara Eloy, Paula Andre, Ricardo Resende and Miguel Sales Dias (ISCTE-IUL).
See architecture through digital technologies

Trilce Navarrete (University of Southern Denmark).
Digital Museums and Networks of Innovation

Judith van Gent (Amsterdam Museum).
Use and reuse: researching the digital museum collection

Cultural transfer in the Dutch Golden Age

chair: prof. dr. Lia van Gemert (University of Amsterdam)

Anna Ancane (Latvian Academy of Art).
Ideals and Achievements: the impact of Dutch Classicism on Architecture of Riga in late 17th century

Sander Karst (Utrecht University).
The impact of Dutch 17th-century painting on the English art world and the involvement of Dutch migrant artists

Frans R.E. Blom (University of Amsterdam).
Lope de Vega in the Netherlands and beyond: Amsterdam's position in the creative industry networks of European theater
12.15-13.30                      Lunch
13.30-15.00                      Parallel Sessions
Digging into (Linked) Data

chair: dr. Harm Nijboer (University of Amsterdam)

Charles van den Heuvel (University of Amsterdam; Huygens ING).
Golden Agents: Creative Industries and the Making of the Dutch Golden Age

Kaspar Beelen (University of Toronto) and Alex Olieman (University of Amsterdam).
Historical Event Search: Thematic Exploration of Parliamentary Data using Knowledge Bases

Pim van Bree and Geert Kessels (LAB1100).
Beyond the black box: conceptualising databases for scholarly research

Genre and Innovation

chair: prof.dr. Julia Noordegraaf (University of Amsterdam)

John Sedgwick (University of Portsmouth).
The Italian film market in 1950s Italy: the co-existence of the 'Errol Flynn effect' and the 'Gracie Fields syndrome'.


Mascha van Nieuwkerk (University of Amsterdam).
Musical genres and the development of concert programming

Adriaan Waiboer (National Gallery of Ireland) and Daniel Isemann (University of Regensburg).
Creative Influence: Vermeer and the Masters of Genre Painting

Conflict and Creativity

chair: dr. Claartje Rasterhoff (University of Amsterdam)

Evanthia Tselika (University of Nicosia).
Ethno-nationally divided cities and the use of art for purposes of conflict resolution and urban regeneration

Boukje Cnossen (Tilburg University)
Performing impact as a strategy for survival: Social art practices in Amsterdam's changing neighbourhoods

Nanke Verloo (University of Amsterdam)
Learning from the street: can creative practices of conflict be opportunities for inclusive cities?
15.00-15.15                                   Short break
15.15-16.15                                   Digital History  I
chair: Claartje Rasterhoff
Matthew Lincoln (Getty Research Institute): In the Face of the Unknown: Missingness in (Digital) History
Respondents: Trilce Navarrete (University of Southern Denmark) and Dorit Raines (Ca' Foscari University of Venice)

16.15-17.00                                 Poster session
17.00                                             Drinks
19.00                                             Conference dinner Oriental City [free of charge, limited seating, please register with Romy: r.beck@uva.nl]
Poster session:
Lucas van der Deijl (University of Amsterdam), The dissemination and translation of the Spinozist idiom in popular discourse. A measure for tracing philosophical influence in early modern Dutch texts (1660-1750)
Lukas Fuchsgruber (TU Berlin). Passages of the art market: The Hôtel Drouot as a space of the Parisian art world of the 19th century
Gonneke Janssen and Ad Aerts (University of Amsterdam). Exploring theatre productions with the theatre encyclopedia
Harm Nijboer and Ivan Kisjes. CREATE: Creative Amsterdam: An E-Humanities Perspective
Christine Schranz (University of Applied Sciences and Arts Northwestern Switzerland). Augmented space – a spatial observation
Sandra Toffolo (Centre d'Études Supérieures de la Renaissance, European University Institute). Prosopography in Network (ProsoNet)
Massimo Vicinanza (Accademia di Belle Arti di Napoli). Art in the New Digital Landscape
Jolanda Visser (University of Amsterdam), CINEMAPS: A data-driven investigation of cinema markets in The Netherlands and Flanders (1950-1975)
Kathrin Wagner (Liverpool Hope University). The Artist-Migration-Model. A systematic approach to the exploration of early modern migration among painters, sculptors and architects
---
Saturday 29 October 2016
9.00-9.30                                                     Coffee & tea
9.30-10.15                                                   Keynote lecture II
chair: Julia Noordegraaf
Scott Weingart MSc (Carnegie Mellon): Punched-Card Humanities
10.15-10.30                                                 Short break – room change
10.30-12.00                                                 Parallel Sessions
New tools for Cinema History

chair: prof. dr. John Sedgwick (University of Portsmouth)

Christian Olesen (University of Amsterdam), Jasmijn Gorp (Utrecht University), Eef Masson (University of Amsterdam), Julia Noordegraaf (University of Amsterdam) and Giovanna Fossati (University of Amsterdam).
Applications and criticism of a New Cinema History research tool: The case of Mapping Desmet

Kathleen Lotze (University of Antwerp) and Thunnis Van Oort (University College Roosevelt).
Exploring patterns of cinema locations in relation to (sub)urbanisation: Antwerp (Belgium) and Rotterdam (Netherlands) in a comparative perspective

Daniela Treveri Gennari (Oxford Brookes University).
Cinematic cartography: geovisualizations of cinema-going experiences in 1950s Italy

Cultural entrepreneurship in the early modern Low Countries

chair: dr. Marten Jan Bok

Simon Groot (University of Amsterdam).
Cultural entrepreneurship in early seventeenth century Amsterdam: the cases of Jan Pieterszoon Sweelinck (1562-1621) and Nicolaes Vallet (c1583-after 1642)

Hans J. Van Miegroet (Duke University).
Long-Term Creative and Collective Strategies to maintain Large-scale Production and Export of Paintings (Mechelen, 1540-1680)

Madelon Simons (University of Amsterdam).
Painters, printers and other artists living in Amsterdam (1500-1600)
12.00-12.30                                               Digital History II
chair: Julia Noordegraaf
Frederic Kaplan and Isabella di Lenardo (EPFL). Time Machine Flagship. The Past is the Next Frontier
12.30-13.15                                               Lunch
13.15-14.45                                               Parallel Sessions
Early Modern Intellectual and Cultural Networks

chair: prof. dr. Charles van den Heuvel (University of Amsterdam; Huygens ING)

Ingeborg van Vugt (Scuola Normale Superiore).
Exploring Networks of Confidentiality and Secrecy in Early Modern Transconfessional Correspondences

Kayla Rose (Bath Spa University).
Mapping Making and Markets: Constructing a Design Identity in Bristol and Bath, 1700-1830

Isabella di Lenardo & Frédéric Kaplan (École polytechnique fédérale de Lausanne).
European circulation of people, goods and patterns: The Venice Time Machine methodology

Catching the Intangible

chair: prof. dr. James Symonds

Harald Kraemer (City University of Hong Kong), Hing Chao (International Guoshu Association Hong Kong), Sarah Kenderdine (UNSW Australia) and Jeffrey Shaw (City University of Hong Kong).
The Hong Kong Martial Arts Living Archive – a Documentation Strategy for Intangible Digital Cultural Heritage

Alex Hale and Anne Leigh Campbell (Historic Environment Scotland).
Is 52 weeks enough? How graffiti archaeology can disrupt and consider interactions with urbanscape

Tjarda de Haan (Amsterdam Museum).
Project "The Digital City revives": a case study of web archeology 

Text and the City

chair: prof. dr. Jan Hein Furnée (Radboud Universiteit Nijmegen)

Thomas Delpeut (University of Amsterdam).
Mining music criticism: digitally exploring the vocabulary of Dutch concert reviewers in Caecilia (1844-1900)

Thomas Crombez (University of Antwerp).
Canonization in Contemporary Theatre Criticism: A case study in digital text analysis

Tessa Wijckmans and Wouter van Elburg (University of Amsterdam).
Who wrote that doggie? Computational approaches to the seventeenth century Dutch novel: automatic authorship attribution and some current problems

14.45-15.00                           Short break
15.00-16.00                           Digital History III
Chair: prof.dr. Frederic Kaplan (EPFL)
Four pitches digital research projects:
Comments by prof. dr. Maarten Prak (Utrecht University)
16.00-16.30                          String ensemble FUSE
16.30-16.45                          Closing remarks by prof. dr. Julia Noordegraaf (University of Amsterdam)
16.45 –                                  Drinks